October 24, 2023
TEAM Spotlight Damian Bloom – TEAM Detroit Lakes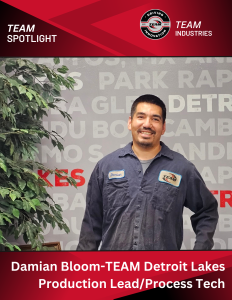 Our October TEAM Spotlight goes to Damian Bloom of TEAM Detroit Lakes.
Damian considers himself to be a very sociable person. He is the proud parent of 7 children and his personal interests involve activities such as fishing, working on vehicles, and spending time outdoors.
In 2022, he made the decision to return to TEAM because he admired the organization's mission and the opportunities it provides as a professional. Being surrounded by dedicated colleagues is something he really enjoys.
Within TEAM, he holds the position of Production Lead/Process Tech, which entails overseeing various aspects of production while also programming tools and robots. 
When it comes to Driving Innovation at TEAM, he feels it signifies the commitment to integrate more automated technologies into our processes. One aspect he finds particularly fascinating is witnessing how a solid block of aluminum is transformed through melting and casting into intricate parts. It is satisfying for him to contribute towards creating components for "toys" that he personally enjoys outside of work.
To Damian the fast-paced work environment along with constantly evolving technology, TEAM offers an exciting workplace where others can thrive. Overall, working at TEAM provides a fulfilling experience.