August 30, 2023
TEAM Member Spotlight – Mike Estey, TEAM Audubon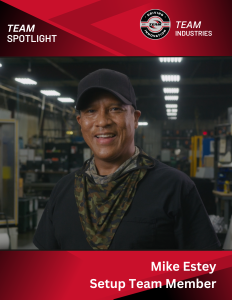 In our TEAM Spotlight, today we have the privilege of highlighting Mike Estey, a dedicated and experienced team member who has been a part of the TEAM Industries family for an impressive 36 years. Mike's journey with the company began when it was still in the beginning stages, and he has witnessed both the growth of the company and his own professional development over the years.
Back when he first joined the company. Mike was a young man with a family to support. He was attracted to TEAM due to its proximity to his home, the stability it offered, and his own interest in machining. Starting out as a machinist, Mike found his passion in this field and gradually rose through the ranks.
Today, Mike works in the lathe department, where he serves as a CNC setup team member. In his role, he not only sets-up the CNC lathes, but also plays a crucial role trouble shooting difficult process and works closely with engineering as well as helps train in new team members. For him, the most thrilling aspect of his work at TEAM is understanding how his contributions directly contribute to the company's overall success. Mike firmly believes that collective effort and dedication are the building blocks of innovation and progress.
When asked about what distinguishes TEAM from other companies, Mike points to the exceptional benefits offered by the company. From the attractive profit-sharing program to comprehensive healthcare coverage. TEAM truly values its team member's well-being. Moreover, the opportunity to contribute to the creation of parts for some awesome recreation vehicles adds a sense of pride and excitement to the work environment. Mike is enthusiastic about encouraging others to join TEAM Industries and make the most of these benefits while contributing to the company's continued success.
TEAM is committed to supporting its team member's personal and professional growth. Mike himself has taken full advantage of the numerous opportunities provided by the company to expand his knowledge and enhance his skills. This commitment to training and development has enabled him to continuously progress, both in his career and as an individual.
#TEAMSpotlight #teammembers #DrivingInnovation #TEAM