July 31, 2023
TEAM CEO Announcement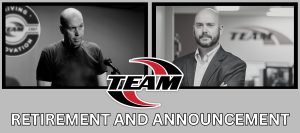 TEAM Industries Announcement
It is with mixed emotions that we announce the retirement of our esteemed President & CEO, David Ricke, after 49 years of dedicated service. Effective July 21, 2023, David will step down from his current position but will continue to serve as Chairman of the Board. We take this moment to reflect on his remarkable journey and express our deepest appreciation for his outstanding contributions.
David's visionary leadership, unwavering commitment, and passion for excellence have played a pivotal role in shaping TEAM into the successful organization it is today. We extend our heartfelt gratitude for his service and wish him the very best as he embarks on the next chapter of his life.
As we bid farewell to David's role as CEO, we are delighted to announce the appointment of Micah Ricke as our new President & CEO, effective July 21, 2023. Micah has been an integral part of the TEAM family for over 24 years, with the last 16 years serving as Director of Product Development. His deep understanding of our industry, strategic vision, and proven leadership make him the perfect choice to lead us into the future.
Please join us in celebrating David's remarkable career and congratulating Micah on his new role. As a TEAM, we will continue to work together, support one another, and drive the company to new heights.
Sincerely,
TEAM Board of Directors